Sarah Orne Jewett House
Friends and Loves of Youth
At the age of eighteen, Sarah Orne Jewett wrote in her diary, "Oh dear, I cannot believe I am grown up. It doesn't seem as if I was at all. I do believe that if anyone should ask me how old I am and I didn't think, I should say ten." (Diary, September 29, 1867)*
Scholars have speculated that some aspect of Jewett's childlike nature into young adulthood may have been linked to her coinciding aversion to the idea of marriage.
At an age approaching young adulthood, Sarah Orne Jewett did not mention any young as of interest in her diaries and seems to have taken little notice of them. Her writing does reveal, however, a series of intense relationships with young women.
Introduced to Boston society, Sarah found a circle of female friends for whom she developed deep affection, from comradeship with Georgie Halliburton, who became a life-long friend, to infatuations, such as with Cicely Burt, with whom Jewett exchanged rings and whose marriage disappointed Jewett, to Kate diCosta Birckhead, with whom Jewett fell in love.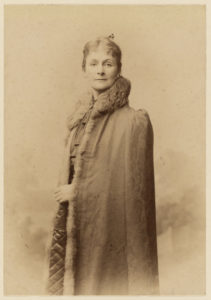 One close friend, Ellen Mason was a mutual friend of Kate; Ellen and Kate were part of Sarah's circle who attended sermons by charismatic Episcopal minister Phillips Brooks. During this time, Sarah rigorously sought self-improvement. Kate diCosta Birckhead was to Sarah a spiritual mentor and a profound, perhaps at times overwhelming, love.
For young women of the Victorian era, religion-based outings could be unsupervised social outlets, thus affording Sarah and friends a bit of the freedom she sought.
* MS Am 174326, Item 3, Houghton Library, Harvard University.