Sarah Orne Jewett House
Horses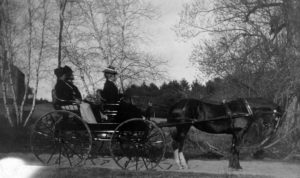 The Jewett sisters wrote with affection for and care about their horses. They sought advice from John Tucker on what particular horses needed at a given time. Fancy and Princess are just a few of the horses mentioned. There even seems to have been a family made-up word – pelters – for horses.
Sarah Orne Jewett liked to go for fast rides in the woods as an emotional vent. Her stories are populated with horses of all kinds, old and stiff; young and fast; one putting her head over a heroine's shoulder in affection.
But Sarah connected especially with her horse Sheila.