Sarah Orne Jewett House
Inspiration: Deephaven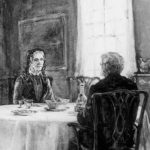 Sarah Orne Jewett's first novel, Deephaven (1877), centers on the escapades of two friends, Kate Lancaster and Helen Denis, who summer together at a house Kate's mother has inherited, in the town of Deephaven, Maine.
The character of Kate Lancaster is believed to be inspired by Jewett's friend Kate DiCosta Birckhead, for whom Jewett appears to have had romantic longings.
Jewett was inspired to use the house of her birth as the model for the fictional manse, noting in the book details from the front hallway, dining room, library, and second floor rooms, including a pointed description of the wallpaper in the parlor chamber, later Mary's room.
The novel was a success; a second edition was printed in 1894 with illustrations by Marcia Oakes Woodbury and Charles Woodbury. To have the illustrations created, Jewett invited the artist couple into her home to sketch. Pictured here is one of the Woodbury illustrations for the book. The drawing hangs in the dining room.