Sarah Orne Jewett House
Dear Mrs. Tyson…
Sarah found a potential purchaser in Emily Tyson. In this letter, Sarah communicated the asking price for Hamilton House, $7,000, including one hundred and ten acres.
By 1897, Hamilton House was known locally as "The Ruins."
Once home to the Wabanaki, the site was purchased in 1785 by Jonathan Hamilton, a man of humble and local origins who had amassed a fortune as a privateer in the American Revolutionary War. Hamilton became a shipping merchant and owned two sugar plantations in Tobago, West Indies—thus, he was directly involved in the enslavement of people. Hamilton built the exquisite Georgian manse as an impressive statement of wealth and as a place to expand shipping operations.
Hamilton House passed out of family hands after Hamilton's death. It was purchased by Betsey and Alpheus Goodwin for a farming operation, which was successful until the advent of the railroads after the Civil War; Maine farmers could not compete with inexpensively raised produce shipped by train from the Midwest.
Sarah's four page letter reads:
24 March 1898
Dear Mrs. Tyson,
My sister Mary has seen Mr. Goodwin today and finds that he holds to his price of $7000, but that there are a hundred and ten acres of land (all in one piece: none out-lying). The extra ten cost his father twelve or thirteen hundred when he bought…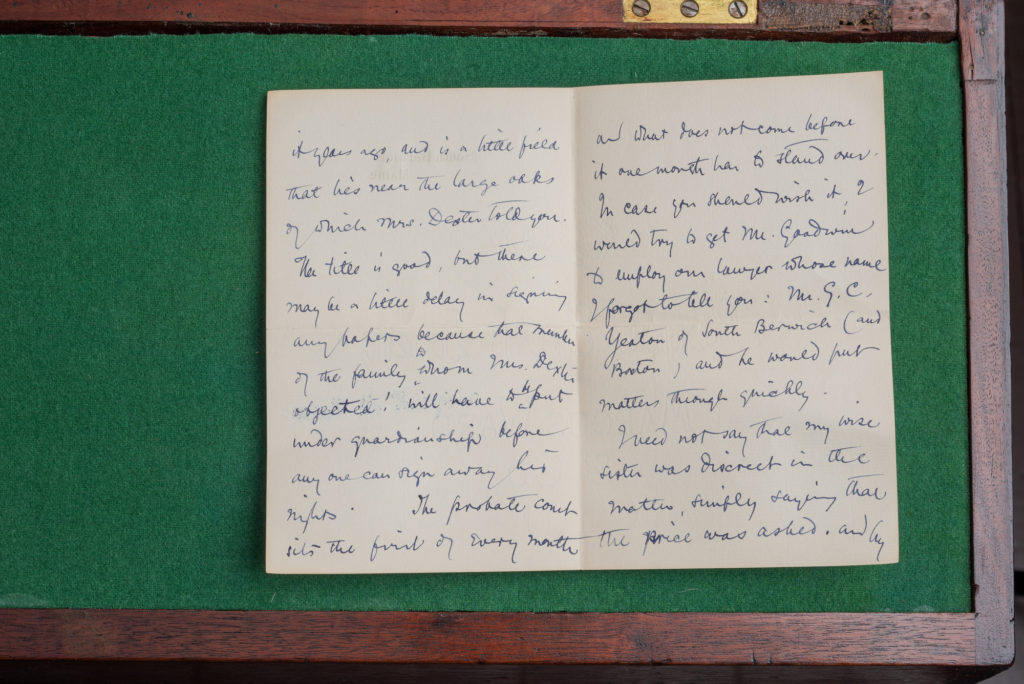 …it years ago, and is a little field that lies near the large oaks of which Mrs. Dexter told you. The title is good, but there may be a little delay in signing any papers because that member of the family to whom Mrs. Dexter objected! will have to be put under guardianship before any one can sign away his rights. The probate court sits the first of every month and what does not come before it one month has to stand over. In case you should wish it, I would try to get Mr. Goodwin to employ our lawyer whose name I forgot to tell you: Mr. G. C. Yeaton of South Berwick (and Boston) and he would put matters through quickly.
I need not say that my sister was discreet in the matter, simply saying that the price was asked, and by…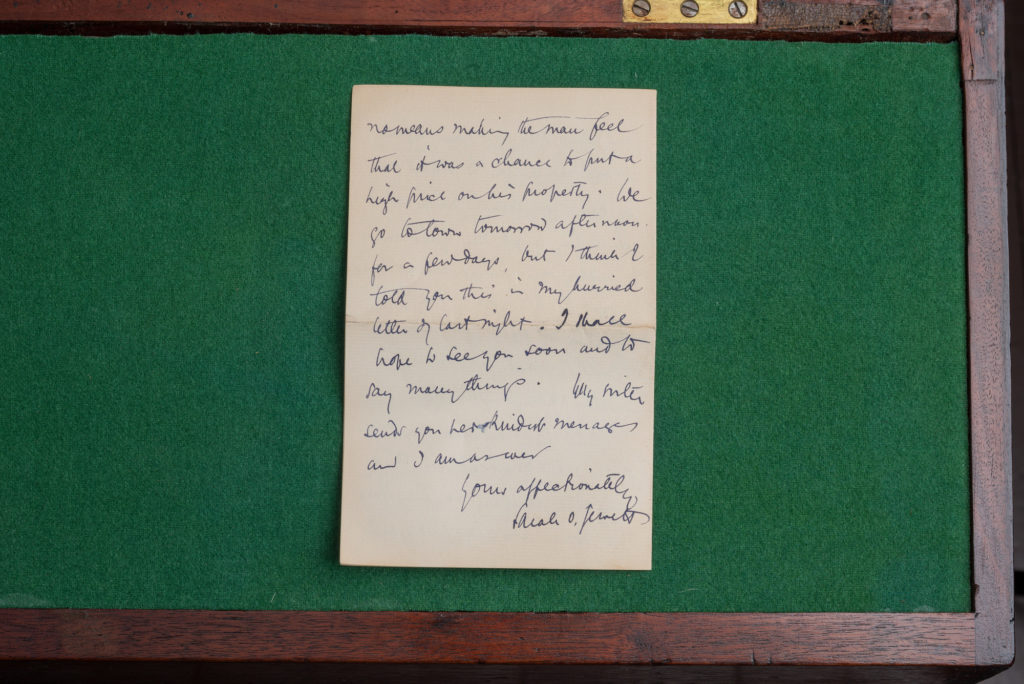 …no means making the man feel that it was a chance to put a high price on his property. We go to town tomorrow afternoon for a few days, but I think I told you this in my hurried letter of last night. I shall hope to see you soon and to say many things. My mother sends you her kindest messages and I am as well.
Yours affectionately,
Sarah O. Jewett