Sarah Orne Jewett House
Mary's Room Wallpaper
This flocked wallpaper with mica was made in England between 1770-80.
Flocked wallpapers were made by applying a gluey substance in a decorative pattern to the paper and running it through a trough filled with finely chopped particles of silk or wool to create a velvety pile. Mica could also be applied for sparkle. No doubt installed around the time the house was built in 1774, it's one of only five eighteenth-century flocked papers to survive in situ on walls in New England.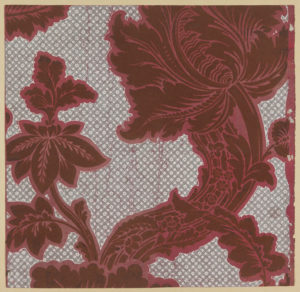 Before and during the Revolution, imported English wallpapers were highly prized symbols of status. An even earlier example in Historic New England's collections was in the Hancock House in Boston and may date from as early as 1737 when the house was built.