Sarah Orne Jewett House
First Floor Hall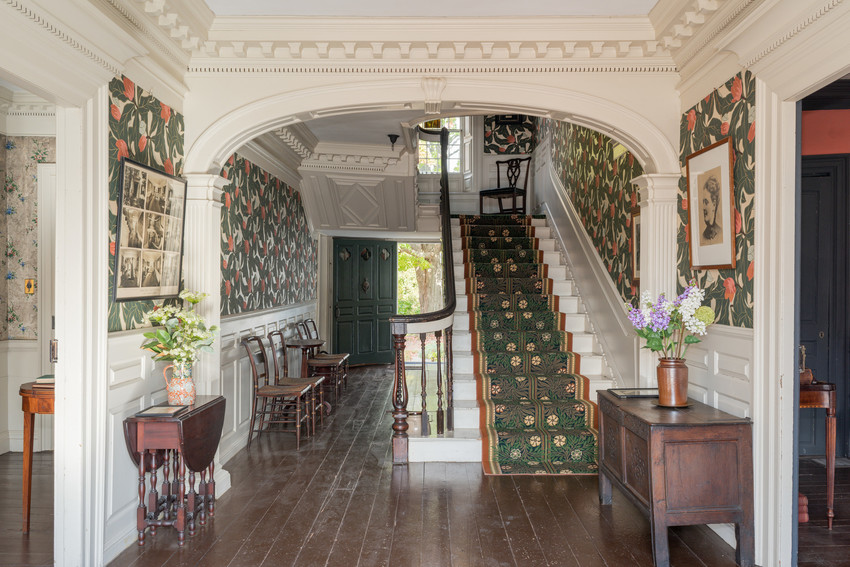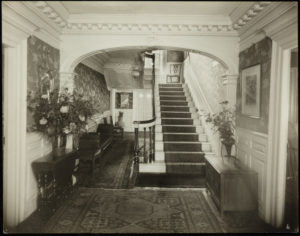 Having been born in this house, Sarah Orne Jewett and her sister Mary later inherited it. By this time, Sarah was a successful author and living part of the year with her partner Annie Fields, whether at Fields' home in Boston, Fields' summer house in Manchester, Massachusetts, or traveling. Upon inheriting, Sarah and Mary purchased Arts and Crafts-inspired floor and wall coverings, overlaying these with their grandfather's furnishings.
Architecture and Design
Georgian Architecture
Built in 1774, Jewett House is a classic example of Georgian architecture. The key features of the style include a symmetrical five bay facade with windows aligned horizontally and vertically. (The dormer windows on the roof were added in the late nineteenth century by Sarah and Mary.) Jewett House also has a portico at the entrance with a classical entablature supported on free standing columns.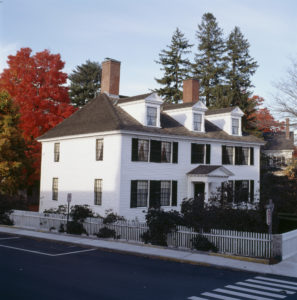 As is typical of Georgian architecture, Jewett House's entrance hall features ornate classical detail.
The arch is supported on engaged columns, or pilasters, that have ornamental grooves known as fluting that capture light and shadow.
An ornamental arch with a central carved keystone separates the entrance from the stair.
Paneled wainscoting serves to divide the walls into thirds with a base, upper field, and cornice.
Click on the hot spots
to learn more