Sarah Orne Jewett House
Parlor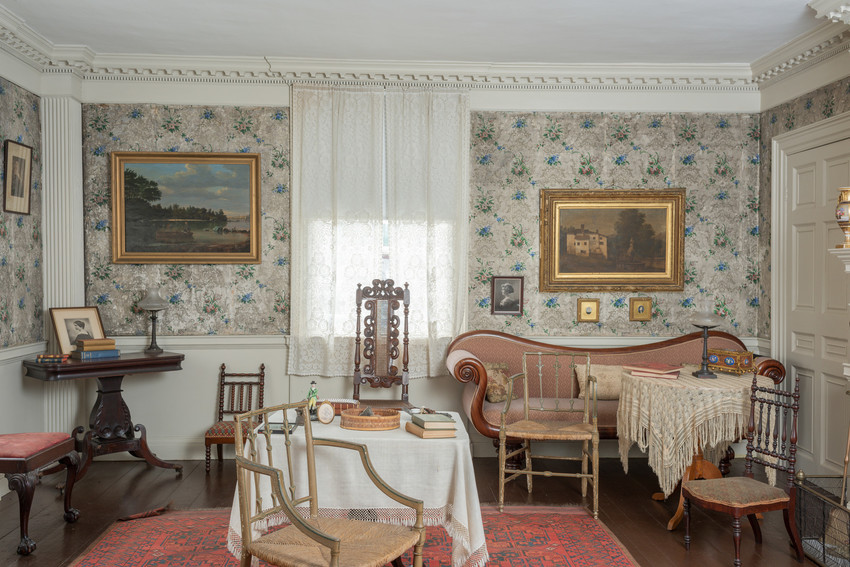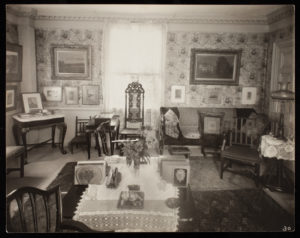 The parlor of eighteenth and nineteenth-century homes was considered the best room and a public space where visitors were entertained.
The decorative arts and wall objects in a parlor would reflect the tastes and interests of the homeowner. In the Jewett sisters' parlor, Sarah Orne Jewett's books are displayed prominently, as are framed photographs of Jewett's partner, Annie Fields, and close friend and designer of Jewett's book covers, Sarah Wyman Whitman.
Parlor Wallpaper
Rooms were typically gendered in the nineteenth century. Libraries or offices were generally male spaces while parlors were female. A delicate floral paper like this one would have only been appropriate in a parlor or bedchamber. This Rococo striped wallpaper, made in France or the United States between 1850-60 was probably installed in the parlor around the time Sarah's Uncle William inherited the house in 1860.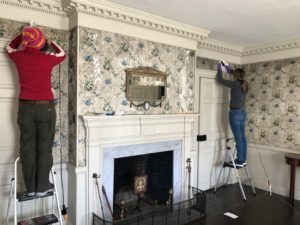 Wherever possible Historic New England strives to maintain historic wallpapers in situ. Although the papers are sometimes disfigured with age, we prefer the authenticity of leaving them intact as long as possible. Here two conservators clean a roughly one hundred sixty year-old paper and tack down loose edges.
Parlor Table
A collection of objects reflecting a homeowner's interest and pride were often displayed in the parlor of a Victorian home. Here, a collection of objects reveals Sarah Orne Jewett's love of childhood, the outdoors, and writing.
Baby Shoe
Bronzing baby shoes was a popular way to memorialize childhood beginning in the late nineteenth century. While its original wearer is unknown, it appears in 1931 photographs of the parlor and was owned by Sarah and Mary Jewett. Its placement in this display evokes the childlike quality Sarah had about her well into adulthood and her love of childhood mementos, such as dolls.
Pen and Pen Stand
The carved pen from Africa or Asia has a pointed blade that can be used as a letter opener. Sarah Orne Jewett may have taken a fancy to this pen and purchased it herself, or she may have received it as a gift.
The cast lead pen stand holds porcelain ink wells. A prolific writer, Sarah would have found this stand, while decorative, functional as well.
"[Jewett] may write 8000 or 10,000 words in a day… When she has a long story on hand, she writes from 2000 to 4000 words a day, five days in the week." – Interview, Philadelphia Press, 1895
Wicker Case
This late nineteenth century Japanese wicker case is filled with rocks and shells. One can imagine Sarah using this case to hold the treasures she gathered in her pockets on an afternoon jaunt.
Rocks and Shells
A basket of rocks and shells, souvenirs, perhaps, of walks in the woods or along the river's edge with her dogs, are a tangible reminder of the deep connection Jewett had with natural world.
The Country of the Pointed Firs
The Country of the Pointed Firs is widely considered Jewett's masterpiece. The natural world reflects the inner lives of her vivid characters in this work centering on themes of community and isolation, friendship and loneliness, and the power of story.
Longfellow's Daughters
This portrait of Longfellow's three daughters, Alice, Edith, and Anne Allegra as children, was used for the illustration of Longfellow's poem, "The Children's Hour." Iconic poet Henry Wadsworth Longfellow had known Annie Fields and knew Sarah Orne Jewett briefly before his death in 1882. Daughter Alice Longfellow - the figure in the rear of the portrait - became a good friend to Sarah Orne Jewett.
Figure, Man and Dog
This mid-nineteenth century figure of a hunter and his dog evokes Jewett's love of the outdoors and her affection for her dogs. The figure is also reminiscent of the hunter character in "A White Heron," one of Jewett's most enduring works.
Click on the hot spots
to learn more
"A Friendship in Books"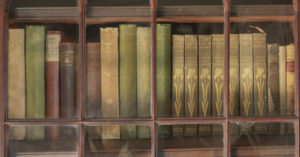 Sarah Orne Jewett wrote a number of stories for young readers: Play Days (1878), a collection of fifteen stories for children; Betty Leicester: A Story for Girls (1890), a longer work, and its sequel, Betty Leicester's Christmas (1899). Jewett also wrote thirty-one uncollected stories for children between 1870 and 1903, over the course of her entire career.
Of these children's works, Betty Leicester was quite successful. The wholesomeness of the story was popular with mothers in the late nineteenth and early twentieth centuries.
Jewett received fan mail from young readers about the book, including Miss Mary E. Mulholland, age thirteen, to whom Jewett responded:
"I am sure that you must like a great many other books since you like these stories of mine. And I am so glad, because you will always have the happiness of finding friendships in books, and it grows pleasanter and pleasanter as one grows older. And then the people in books are apt to make us understand 'real' people better, and to know why they do things, and so we learn sympathy and patience and enthusiasm for those we live with, and can try to help them in what they are doing, instead of being half suspicious and finding fault."
-Sarah Orne Jewett, January 23, 1899 (Sarah Orne Jewett, Series A: Correspondence 1879-1908, Folder A48: to Mary E Mulholland. 1899 1 ALS. Boston, MA. 4 p., Special Collections, Colby College, Waterville, Maine)
Pinny and Fuff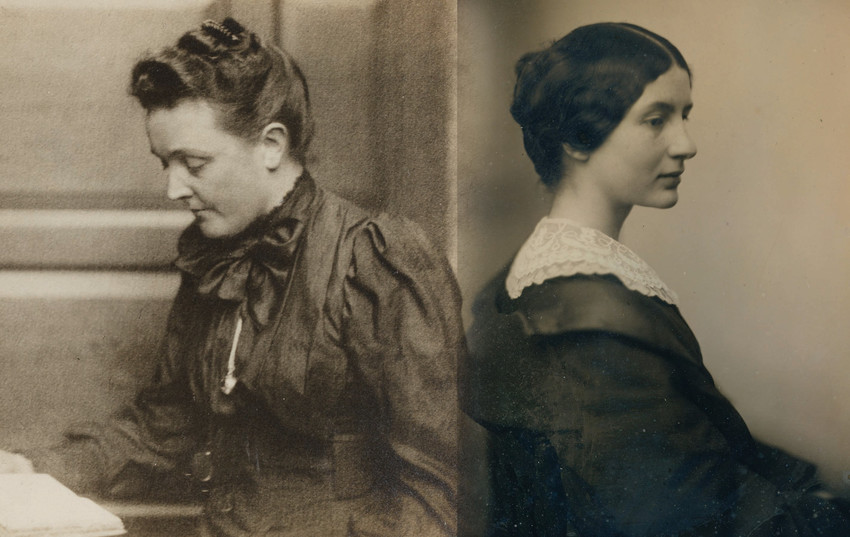 They called each other by nicknames: Sarah was Pinny Lawson, Pinny being a family nickname from her teen years when she was growing tall and her head seemed small in comparison, like a pin; Fuff, Fuffy, Fuffatee, and Mouse were all nicknames Sarah had for Annie.
Annie and Sarah met as Sarah began finding success as a writer. While they shared many mutual friends, it was through James T. Fields—Annie's husband, Sarah's publisher—that they first met. An early letter from Sarah to Annie written in 1877, the year Deephaven was published, is a polite inquiry into her Thanksgiving and a commentary on a fellow and feminist writer.
At first Annie and Sarah, living in different worlds, had little in common. In her early forties, Annie Fields was the flower of society adored by the likes of Dickens; Sarah was young for her twenty-eight years, though well-educated and described as lady-like, equal to the task of entering the Boston literary scene.
The marriage of Annie and James Fields was a happy and successful one. When James died suddenly in the spring of 1881, Annie was shattered. She retreated from friends, burying herself in work. The following autumn, Sarah arrived at Charles Street for a condolence visit—these typically lasted about three weeks. Sarah stayed three months and the two were inseparable ever after.
Sleigh and Horses
Although this painting, on view in the parlor of the Jewett House, is a late nineteenth-century copy showing an imagined scene in Poland, it's a reminder that no less than cars are today, sleighs and carriages could be both exhilarating and dangerous.
Sarah wrote to Annie of her adventures with her nephew Teddy (often called Stubby by the family):
This morning I was out, taking a drive about town with John and I saw such a coast from way up the long hillside down to the tavern garden, and directly afterward down in the village I beheld Stubby faring along with his sled, which is about as large as a postage-stamp. So I borryed it, as you say, and was driven up to the top of the hill street and down I slid over that pound-cake frosting of a coast most splendid, and meekly went back to the village and returned the sled. Then an hour later in bursts Stubby, with shining morning face: "There were two fellows that said Aunt Sarah was the boss, she went down side-saddle over the hill just like the rest of the boys!"
– Letter to Annie Fields, December 4, 1885
However, fun and excitement turned to tragedy when Sarah was in a serious carriage accident in 1902 from which she never fully recovered. Two years later her sister Mary was also thrown from a carriage, although her injuries were less severe.