Sarah Orne Jewett House
The Inner Circle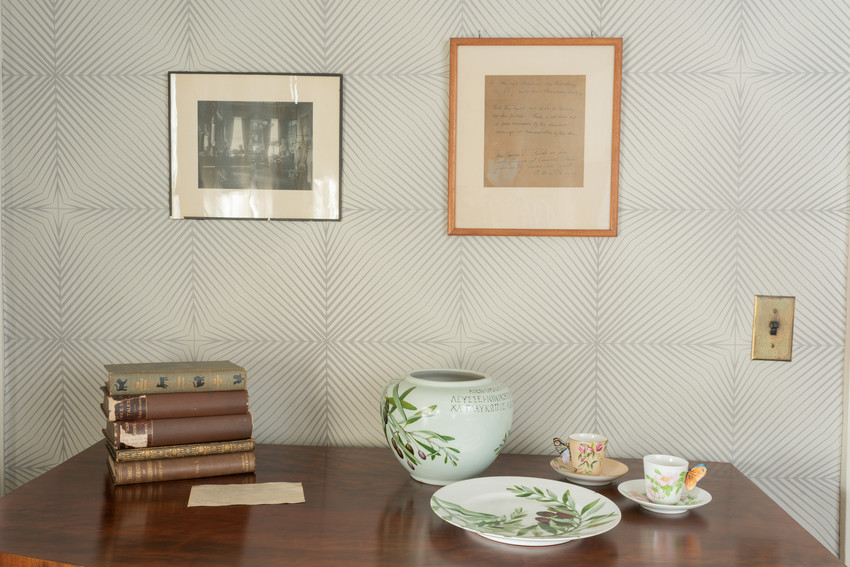 "Old friends is always best, 'less you can catch a new one that's fit to make an old one out of," remarks Jewett's iconic character Almira Todd in The Country of the Pointed Firs (XII. "A Strange Sail")
For Sarah Orne Jewett, her friendships, particularly those with close female bonds, were of central importance in her life. Evidence of Jewett's devotion to her friends is found throughout her South Berwick home in photographs and collection items. The guest bedroom, located on the second floor, contains several collection pieces that were from, given to, or about Sarah's friends.
Friendship was a strong and recurring theme in Sarah Orne Jewett's work.
Owl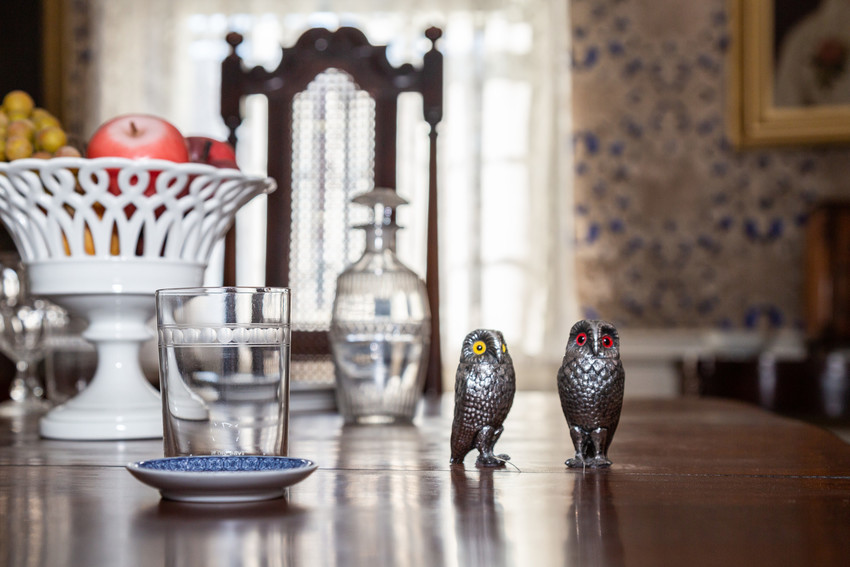 The salt and pepper shakers in the dining room are a reminder of Sarah's nickname, "owl," among her good friends. Celia Thaxter gave Jewett the nickname "owl," and "owlet." Annie Fields was "flower."
The owl salt and pepper shakers in the dining room seem to have been present before Sarah's friend gave her the nickname, however, as evidenced by a story Jewett published at the age of seventeen:
"The Pepper-owl expected attention, and began to feel cross because the children were hungry, and were so busy with their soup that they did not look beyond their own plates until they were empty, and did not stop eating for even one glance at him. "They are so impolite to strangers, these people!" said he to himself; but for all that, he kept his yellow eyes wide open, and his silver feathers glistened bravely. There was a tumbler near him, in which he could see himself, and that was a great pleasure." Sarah Orne Jewett ("The Pepper Owl and the Fluffy Owl," St. Nicholas Magazine, 1876)
Sarah Wyman Whitman
Painter, book cover designer, and stained-glass artist, Sarah Wyman Whitman (1842-1904) became one of Jewett's closest friends. She lived on Mt. Vernon Street in Boston, close to Annie Fields' Charles Street home where Jewett lived part of the year, and she was a frequent visitor to Jewett's South Berwick home.
Sandpiper: Celia Thaxter
Poet and writer Celia Thaxter (1835-1894) became close to Sarah Orne Jewett through Annie Fields, Thaxter's dear friend and mentor.  Annie and James T. Fields had introduced Thaxter to the New England literary scene.
Thaxter achieved widespread popularity in her work, becoming the most widely read female poet during the second half of the nineteenth century.
Like that of Jewett, Thaxter's work reflects a deep connection to nature, particularly birds and wildlife, and flowers. Her flower gardens were legendary and became the source of her most enduring work, An Island Garden.
Unlike Jewett, Thaxter wrote "in between," as many women writers and artists have for centuries, caring for an invalid husband, one troubled child and two others, a mother who was ill, and on top of it all, running a hotel on Appledore Island to pay the bills.
Sara "Sally" Norton
"…One feels how easy it is for friends to slip away out of this world and leave us lonely. And such good days as you have had are too good to be looked for often. There is something transfiguring in the best of friendship." Sarah Orne Jewett (Letter to Sara Norton, September 3)
Sara "Sally" Norton was of the Boston elite, the eldest daughter of Harvard art professor Charles E. Norton and niece of James Russell Lowell, the founding editor at The Atlantic Monthly.
She was invited to 148 Charles Street and Gambrel Cottage with some frequency. Sally Norton also visited Jewett's South Berwick home. Jewett visited the Nortons at their Cambridge home Shady Hill and at their vacation residence Ashfield, in the Berkshires.
John Greenleaf Whittier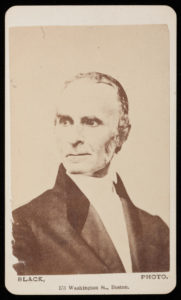 John Greenleaf Whittier (1807-1892) was an immensely popular poet—one of the five Fireside Poets of the latter half of the nineteenth century. A Quaker raised on a Massachusetts farm, Whittier was dedicated to social causes, particularly the ending of slavery. He worked on abolitionist newspapers and magazines. He won a seat in the Massachusetts state legislature, where he introduced bills to help the runaway enslaved.
For Jewett, Whittier was a friend and supporter who praised her work unconditionally and who shared a somewhat sheltered sensibility with her.  Importantly in this regard, Jewett met him in person her first year living with Annie in Boston, though they had corresponded previously. Whittier was terribly shy and delightfully unfashionable. Like Jewett, his writing had a moral center. Like Celia Thaxter, also his friend, he appreciated a good story of the supernatural and was receptive for a time to Thaxter's foray into spiritualism.
As Sarah Orne Jewett's fame grew and her circle of acquaintances became larger, she had a constant in her inner circle of friends, like Whittier and Thaxter with their homespun sensibilities, like Sarah Wyman Whitman with her deep commitment to the friendship, and like Sally Norton, to whom Jewett wrote in November 1907, "You and Mr. Norton are two of my very dearest little company of friends; I can never help thinking of you both very often and always sending my true love."