Sarah Orne Jewett House
Pinny and Fuff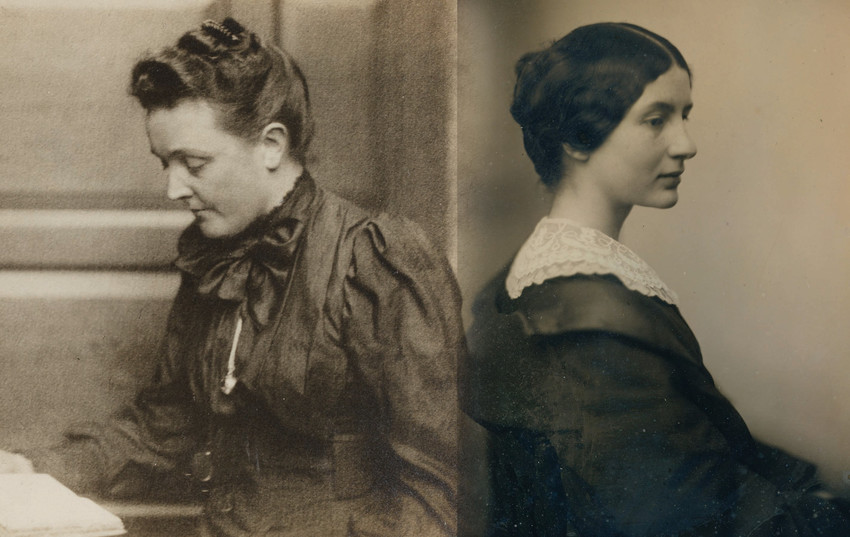 They called each other by nicknames: Sarah was Pinny Lawson, Pinny being a family nickname from her teen years when she was growing tall and her head seemed small in comparison, like a pin; Fuff, Fuffy, Fuffatee, and Mouse were all nicknames Sarah had for Annie.
Annie and Sarah met as Sarah began finding success as a writer. While they shared many mutual friends, it was through James T. Fields—Annie's husband, Sarah's publisher—that they first met. An early letter from Sarah to Annie written in 1877, the year Deephaven was published, is a polite inquiry into her Thanksgiving and a commentary on a fellow and feminist writer.
At first Annie and Sarah, living in different worlds, had little in common. In her early forties, Annie Fields was the flower of society adored by the likes of Dickens; Sarah was young for her twenty-eight years, though well-educated and described as lady-like, equal to the task of entering the Boston literary scene.
The marriage of Annie and James Fields was a happy and successful one. When James died suddenly in the spring of 1881, Annie was shattered. She retreated from friends, burying herself in work. The following autumn, Sarah arrived at Charles Street for a condolence visit—these typically lasted about three weeks. Sarah stayed three months and the two were inseparable ever after.
Bedroom Mirrors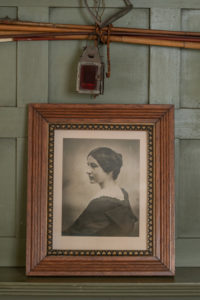 At first, the placement of a mirror in the corner of Sarah's bedroom seems puzzling; its height and angle seem to serve no obvious function.
A closer look reveals Sarah's purpose: the mirror reflects the portrait of Annie Fields on the mantel. A mirror atop a chest of drawers in the room also reflects the portrait.
Standing from any angle in the room, Jewett could see her beloved Annie.
Dear darling Fuffs –
This little note came from dear [Celia Thaxter] this morning and I will send it right to you – Do tell me what she says – I am going over to Exeter this afternoon to see my grandfather and perhaps stay until evening – not overnight – Poor little Fuff being lonely at Nahant! – but it shall be ever so long before you shall be alone again…Kiss dear Rogery on the top of his smooth head for me – and Kiss Miss Fuffy Fields in the looking glass and play it was Pin! Day after tomorrow I shall have you!!
MS Am 1743 (157), Houghton Library, Harvard University. Transcription by Terry Heller, Coe College.
Charles Street
Sarah spent winters with Annie at her home, 148 Charles Street, a narrow four-story house overlooking a private garden and the Charles River in a somewhat stylish neighborhood of Boston. The area was a mixture of old wealth and new money, with many of Sarah and Annie's friends of the literary world living within walking distance or carriage ride. The house is no longer extant, but at the time that Annie lived there first with her husband James T. Fields, and later with Sarah, it was the epicenter of Boston's literary world. Friends might be invited for breakfast, luncheon, tea, or intimate evening, and Saturday afternoon they were "at home" for a salon of artists and writers. Sarah enjoyed the active social life and cultural pursuits she enjoyed with Annie living in Boston. While most of her focused writing was done in South Berwick, she did manage to eke out time to write at Charles Street, perhaps in the room pictured, the long and narrow library that Henry James called the Fields' "waterside museum."